Attention LMS 8th graders - Liberty High School is hosting a Rising Freshman Night. Please plan to attend Tuesday, February 22nd from 5:00 pm - 7:00 pm.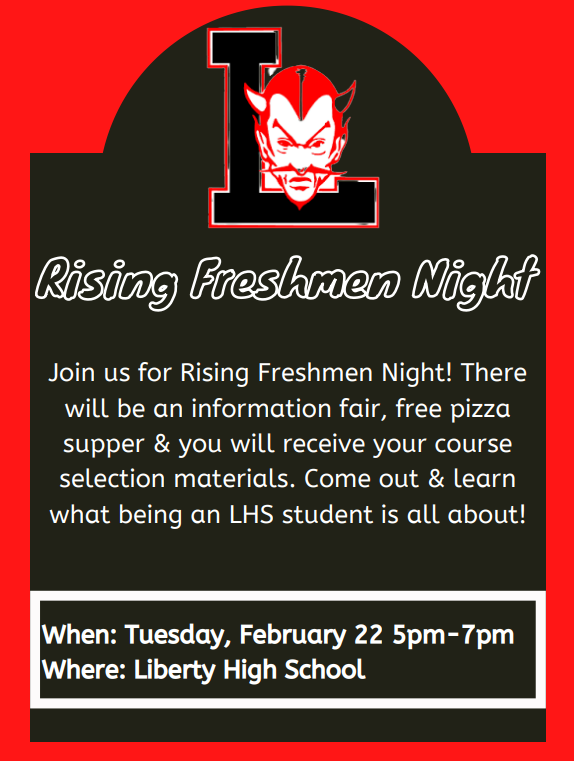 National School Counseling Week is Feb. 7-11, and we're happy to join our schools in celebrating. Every day, school counselors make a difference for students! Join us in thanking them for all they do! #SDPCBetterTogether #NSCW22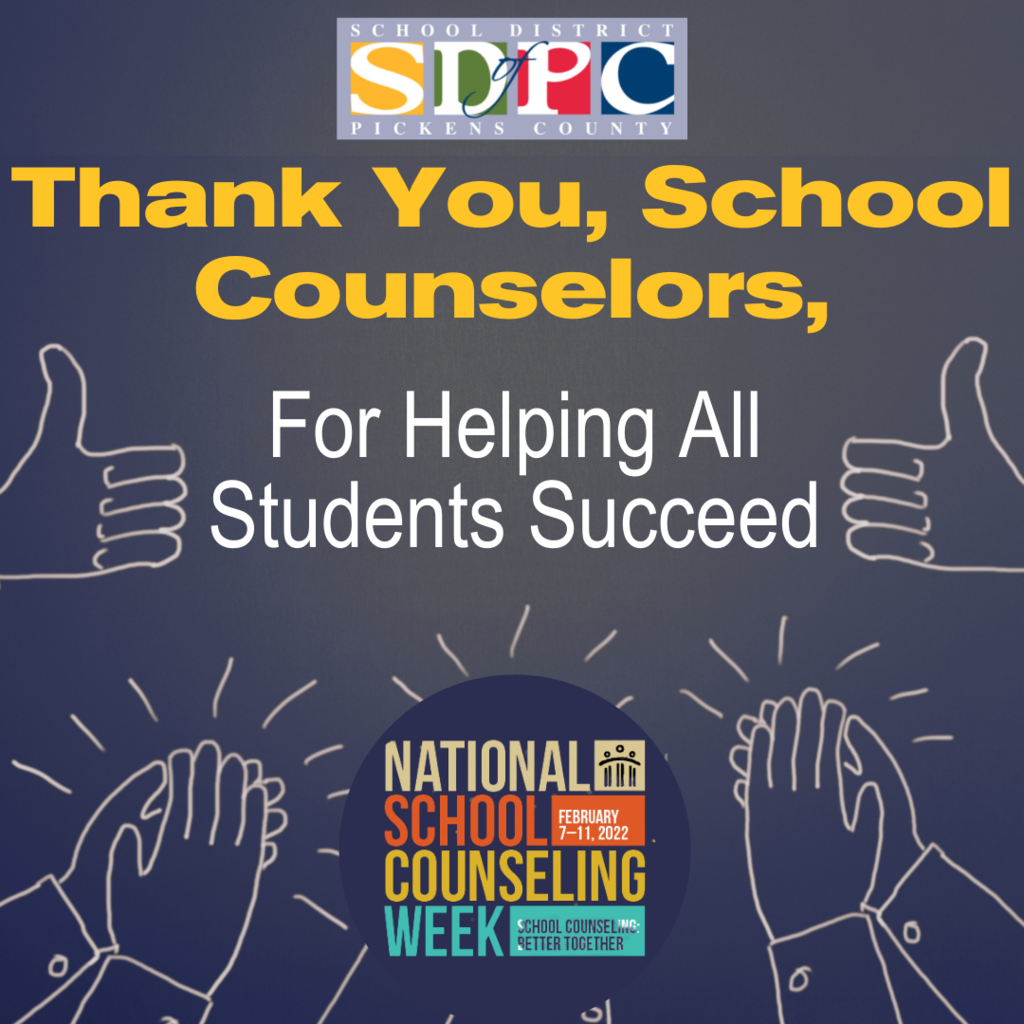 🚨Reminder🚨: There will be no school: Friday, February 4, 2022 Friday, February 18, 2022 Monday, February 21, 2022 These days are planned breaks on the 2021-2022 calendar. (Note: The free COVID-19 testing center for SDPC will be closed on these dates)
It's time for the Liberty Middle School Read-a-thon! The LMS Read-a-thon promises to be a fun, exciting journey that starts Monday January 31, 2022. We will get your children excited about reading. We know you have limited time but want the best education for your child. That's why we hope everyone will activate their reader's account as soon as possible. This is where you can record and view your reader's progress. We encourage you to activate your reader's account today by clicking on
https://www.read-a-thon.com/readers/r/SjxSQH/1
and following the simple instructions. Thanks so much, Liberty Middle School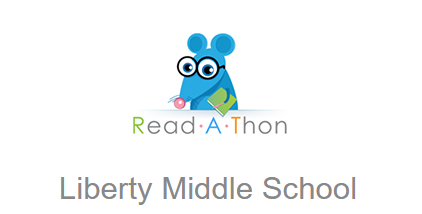 Good morning! If you need to report a COVID situation with your student, please use this form:
https://forms.gle/9SRTPoWe64FwT1hL6
Additionally, if you have trouble with the form, or if you do not have a way to access it, please call the school at 864-397-3400. If your child is symptomatic and needs to be tested, the School District of Pickens County is offering FREE testing for students at the Career and Technology Center.
Here are some important dates coming up in the LMS yearbook. January 28th – Last Chance to purchase a PERSONALIZED yearbook at Jostens.com February 2nd - last day to create and purchase a 8th grade yearbook ad.. February 25th – Last Chance to guarantee a yearbook. What does that mean? We will continue to sell non-personalized yearbooks online after this date until we get closer to selling out but if you want to make sure your student has a yearbook, 2/25/22 is the last day. Have a great day,

The School District of Pickens County (SDPC) will open on a two-hour delay on Thursday, January 20, 2022, due to the continued danger of ice on shaded areas and on secondary roads. The two-hour delay gives additional time for ice to melt off the roads and will improve visibility for drivers. -- Morning 3K and 4K classes are canceled. PM classes operate on a normal schedule. -- No Buses on Icy Roads -- High school students (including Career Center) should check their Schoology messages for adjusted class times and bell schedules.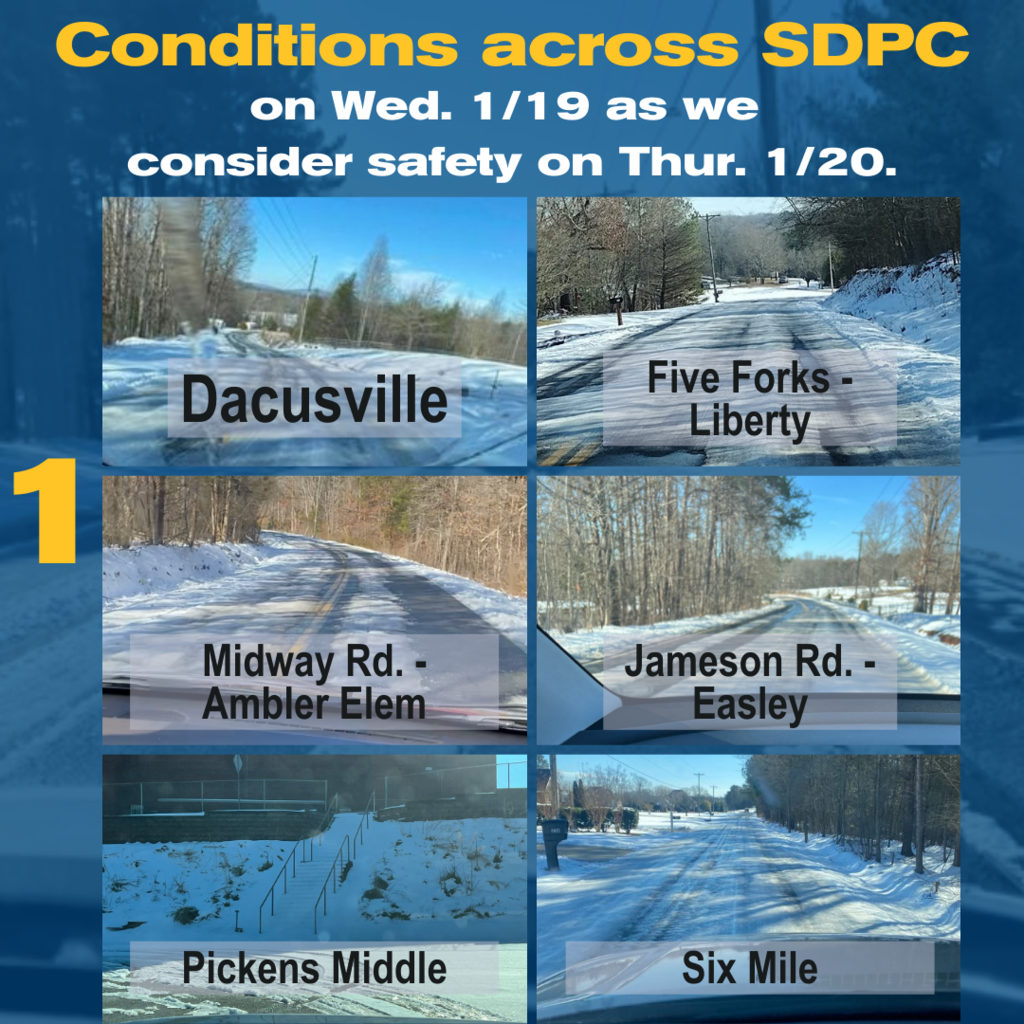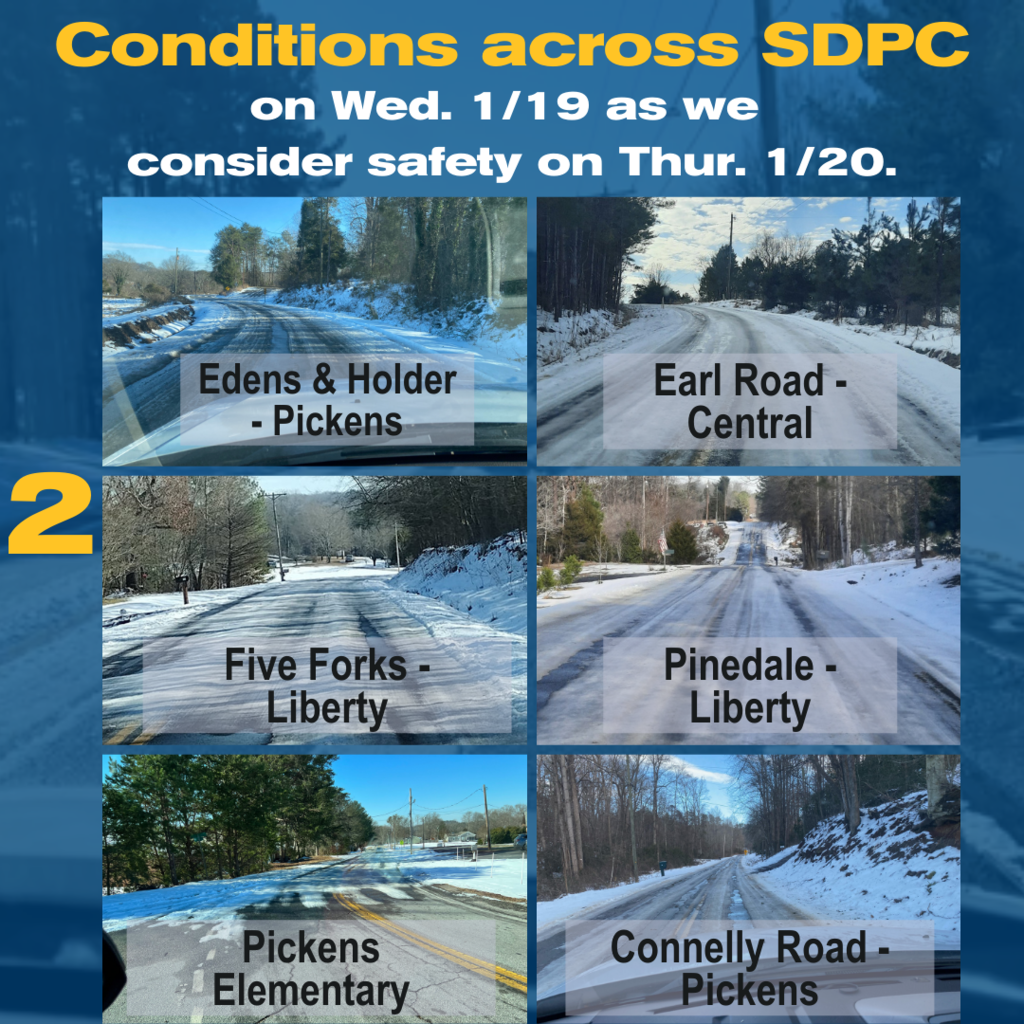 Wednesday, January 19, 2022 will be a Digital Learning Day for the School District of Pickens County due to the continued danger of icy roads. Students will not attend school in-person. While there are areas in our county that have improved, there are many shaded areas that continue to have noticeable ice and black ice on roads. Temperatures are expected to drop again tonight and are not predicted to rise above freezing until after 9:00 am. Even with a delay, transportation would have to occur on the roads prior to this time.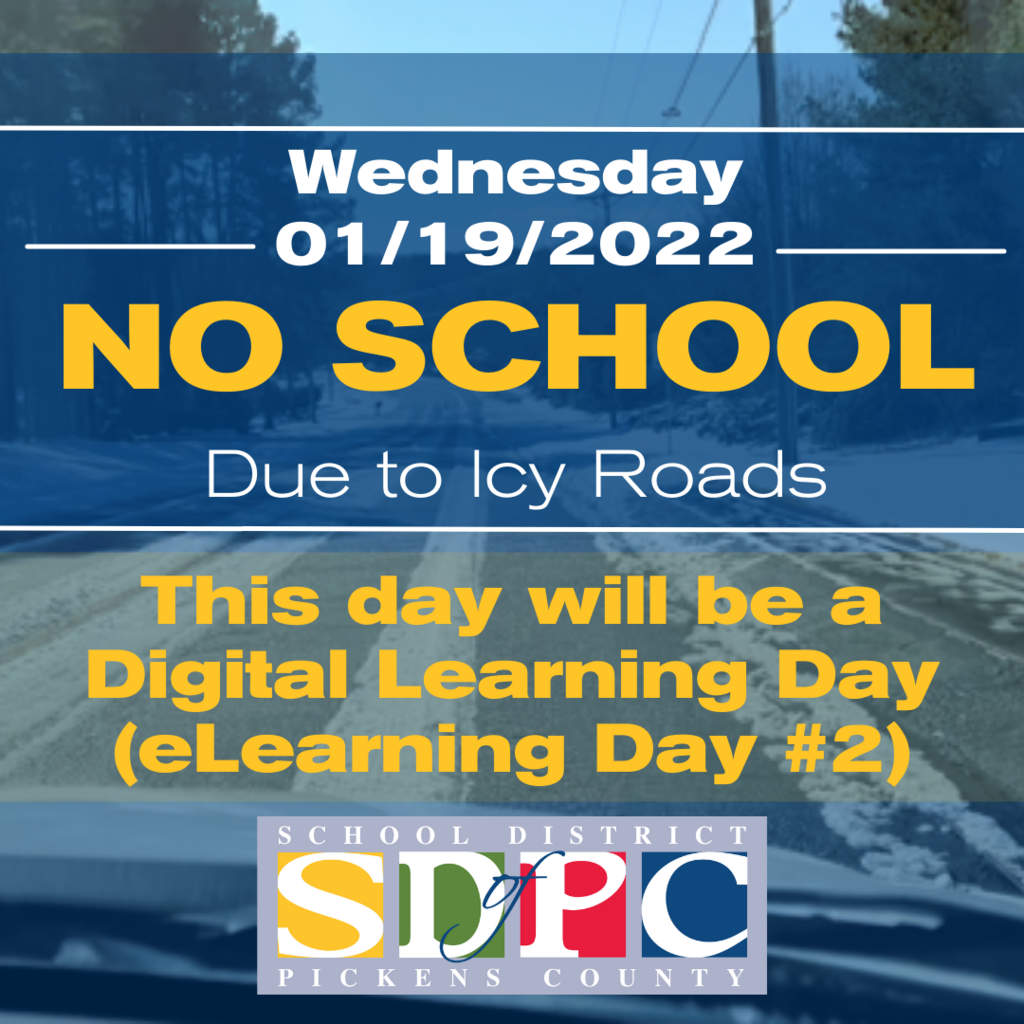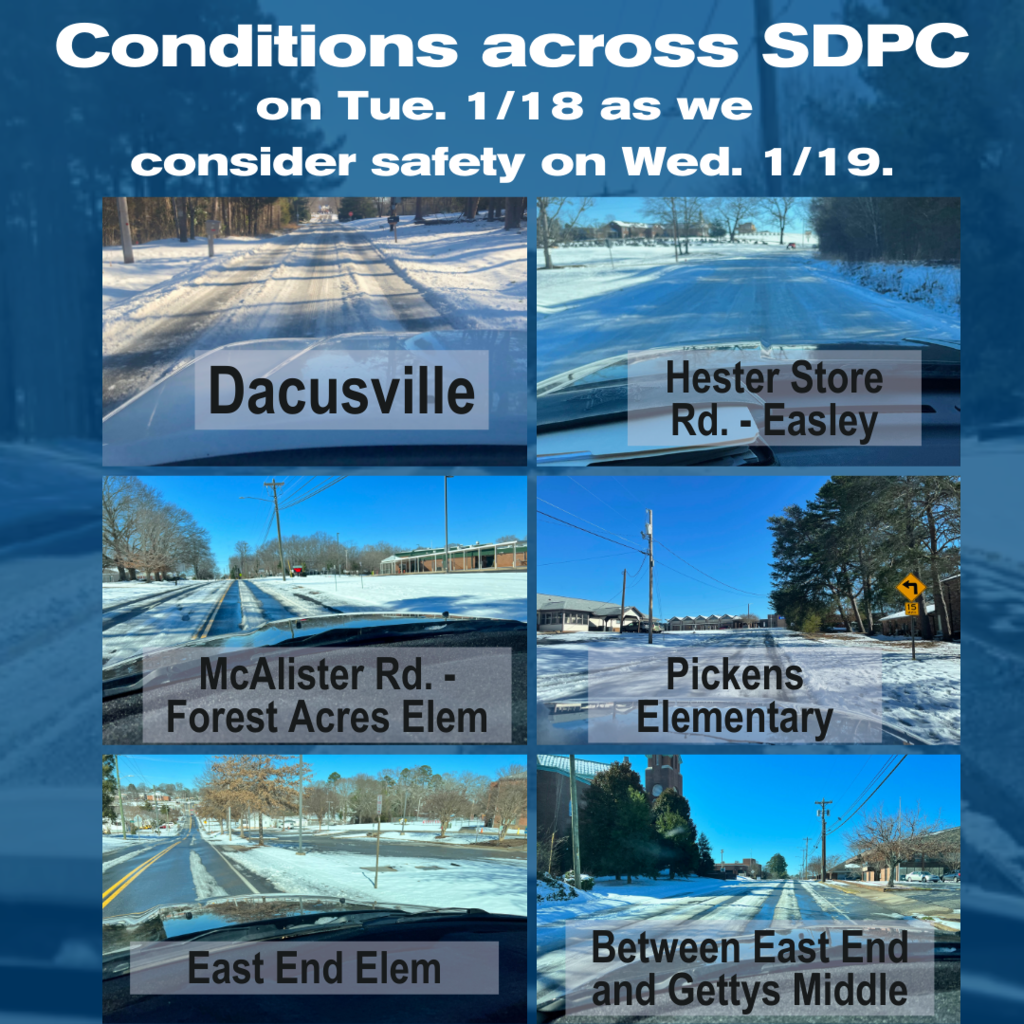 Tuesday, January 18, 2022 will be a Digital Learning Day for the School District of Pickens County due to icy roads. Students will not attend school in-person. Temperatures are expected to drop into the teens tonight following the snow, sleet, freezing rain from yesterday. Noticeable ice and black ice on roads throughout the county is a serious concern tomorrow morning. We will make a decision regarding school for Wednesday (January 19, 2022) on Tuesday evening.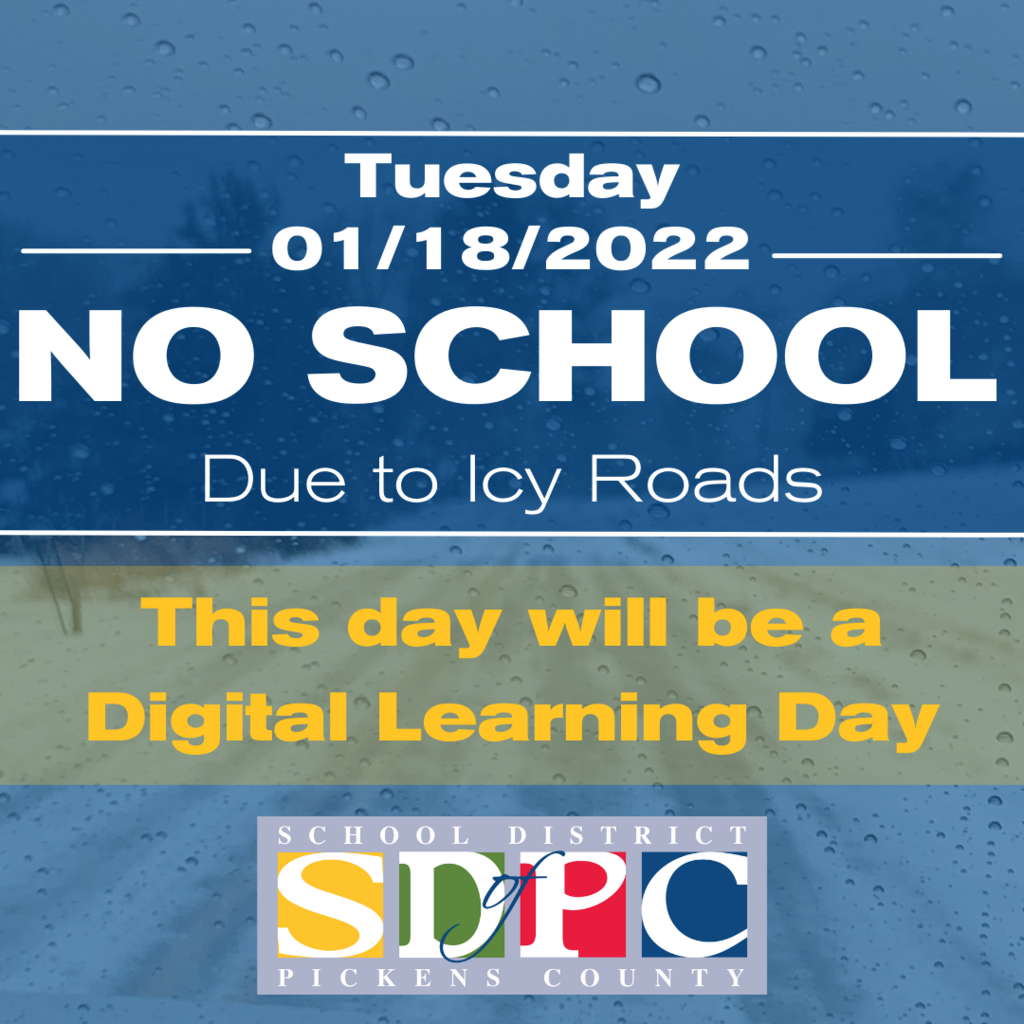 Save the Date for Kindergarten Registration! It's almost time for 3K, 4K, and 5K students to enroll for the 2022-23 school year! SDPC will start registration for the 2022-23 school year beginning in February. Parents can begin the registration process online now by entering their information into the New Student Gateway:
https://www.pickens.k12.sc.us/page/new-student-gateway
Schools will use this registration to contact parents of potential 3K and 4K students to set up screening appointments. More information regarding 3K and 4K programs for the 2022-23 school year will be available in February. For answers to common registration questions, visit our website at:
https://www.pickens.k12.sc.us/page/registration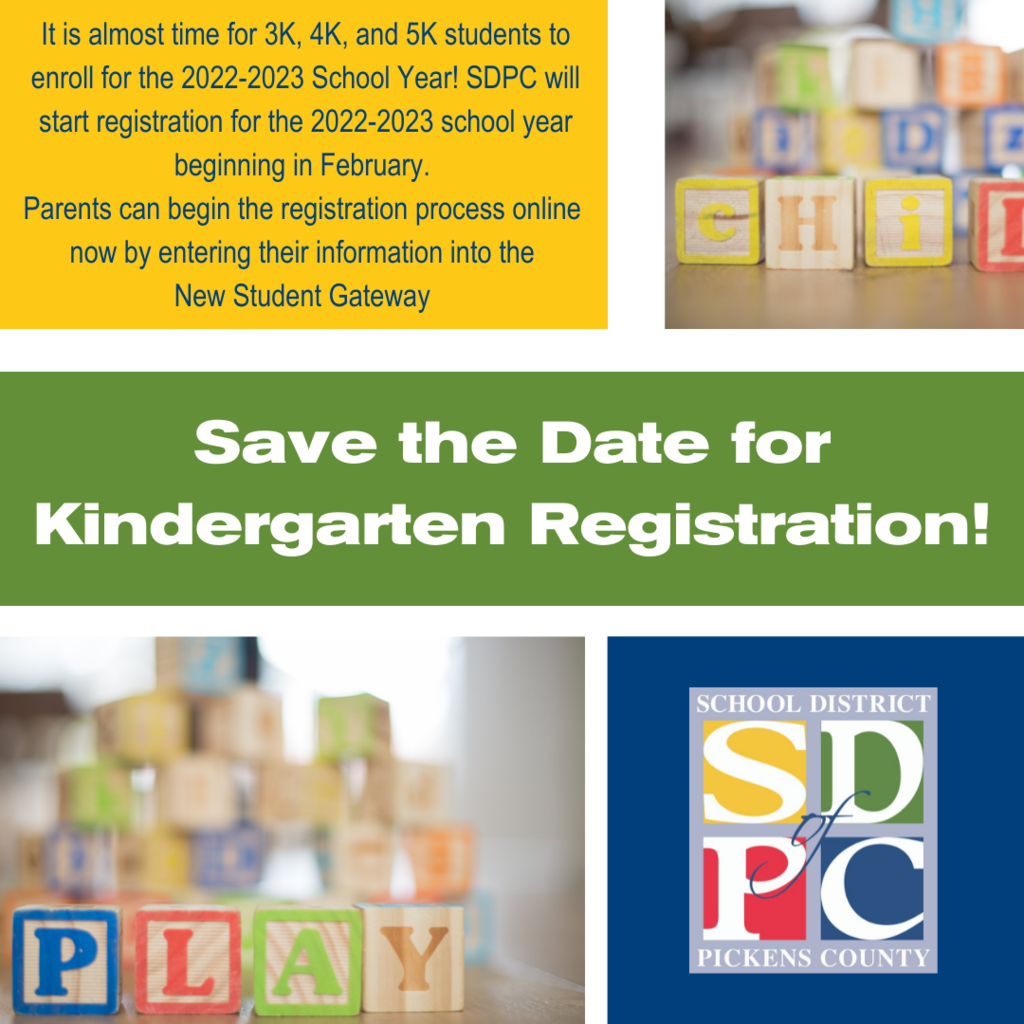 LMS Students we are excited to see you tomorrow Tuesday 1/4/2022. You will have your Semester Two schedule waiting for you in your homeroom class in the morning. #riseuplms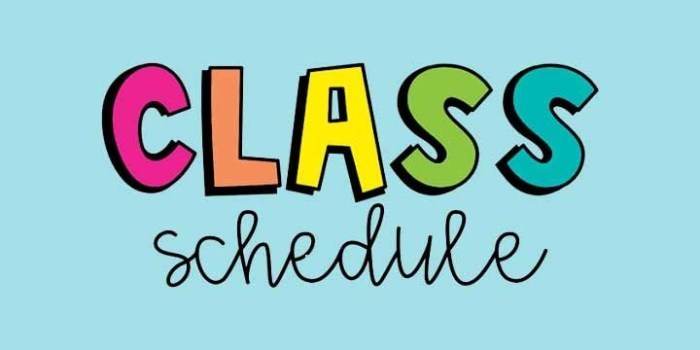 While we hope that all of our students and their families remain healthy during the winter break, we do have to be prepared for COVID exposures to take place. We ask if your Liberty Middle student has been exposed to COVID, is symptomatic, or has tested positive that you use the attached QR code to report the situation. Wishing you and your family a Happy Holiday!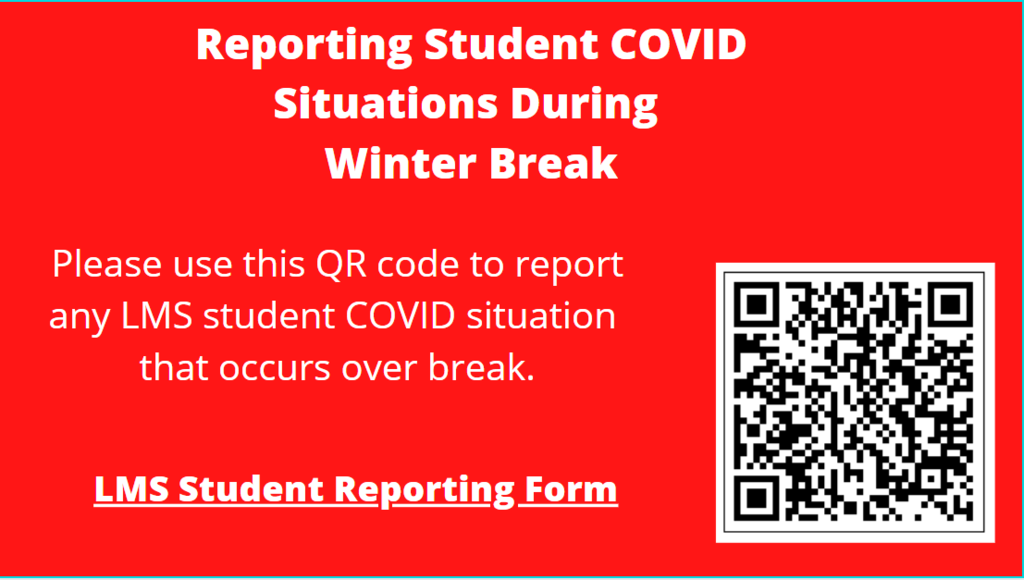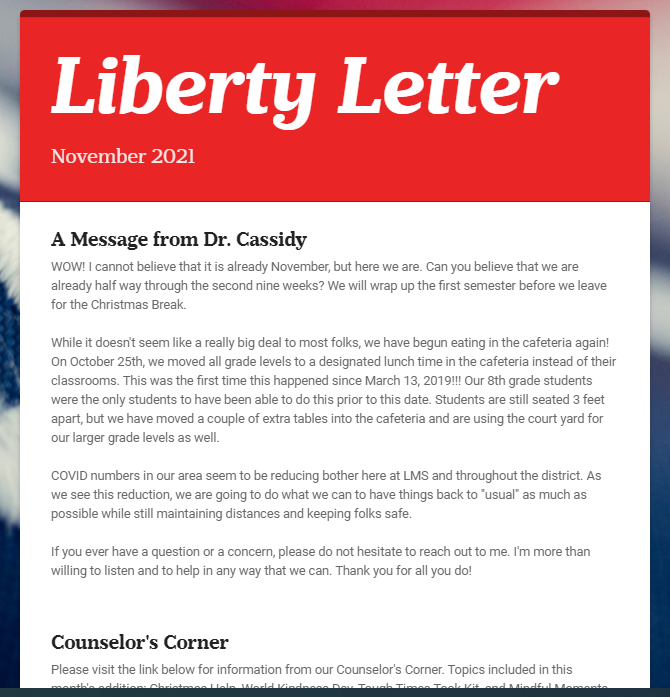 Reminder: As scheduled on the 2021-22 school calendar, there will be no school on Monday, November 1, 2021. Enjoy the long weekend! 🎃 🍁 🍂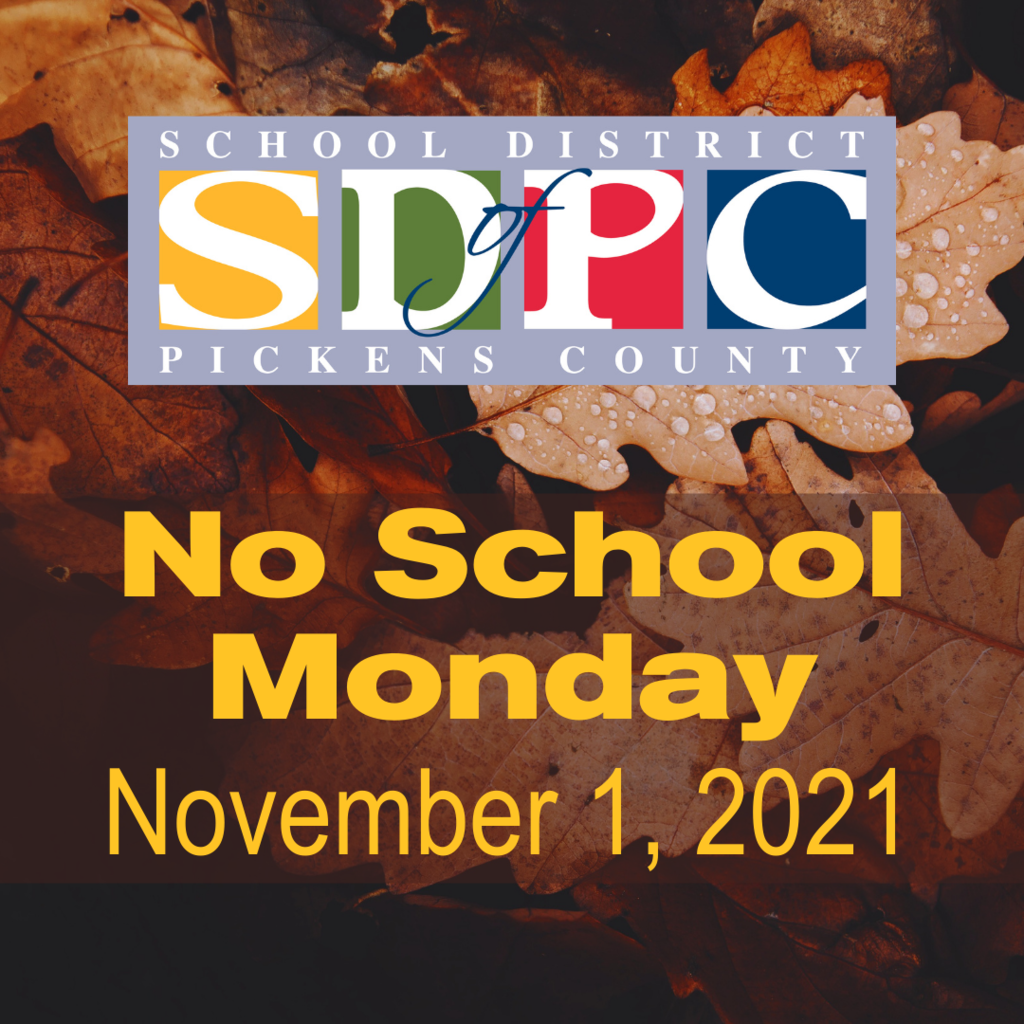 There was a beautiful rainbow over LMS this evening. #thepotofgold Photo credit: Pam Gibson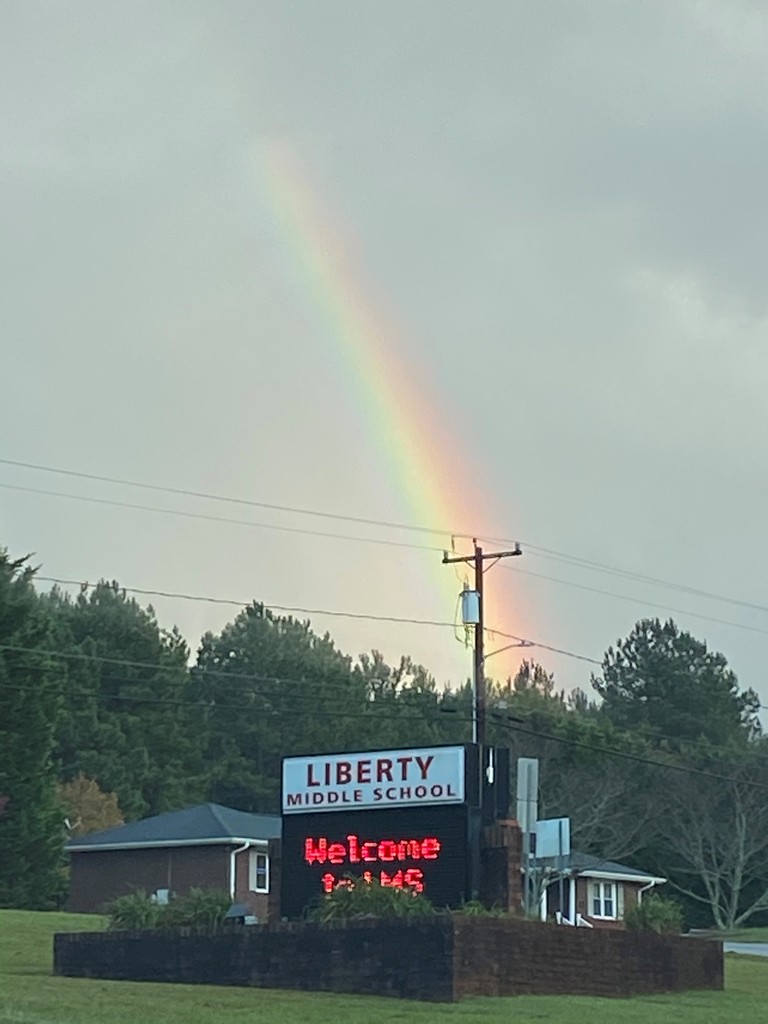 October 25th - 29th is Spirit Week at Liberty Middle. Don't miss out on participating in these fun theme days!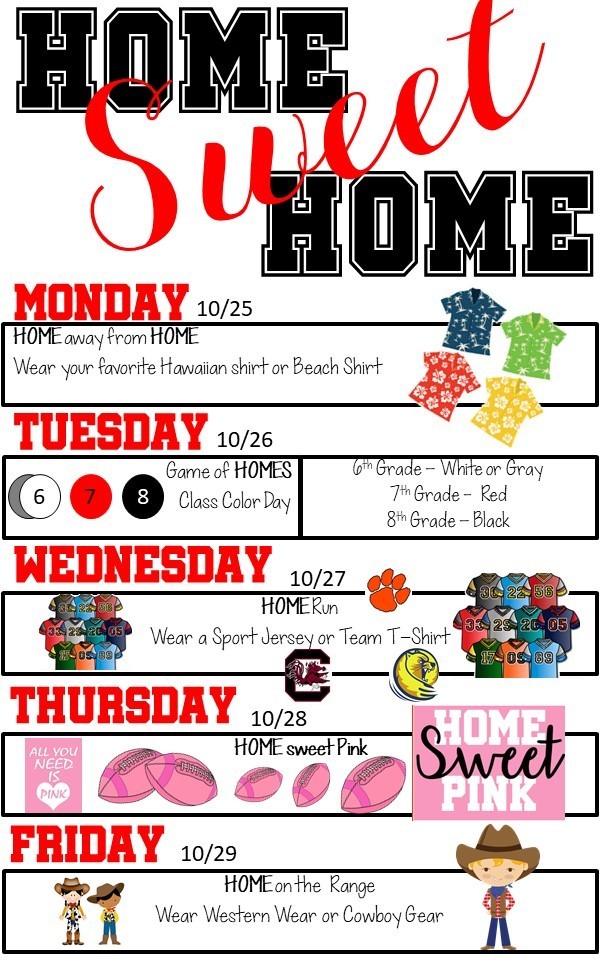 Congratulations to the LMS Volleyball Team and their coaches, Vickie Juan and Nikki Smith. These amazing young ladies ended their season as the AOP Division III Season Champions. On Saturday, October 16th, they went on to win the AOP Division III Tournament. This marked the fifth consecutive AOP Division III Championship for Liberty Middle School.
Be sure to check out the latest edition of the Liberty Letter. It includes a lot of school information, along with some upcoming community events.
https://www.smore.com/jn120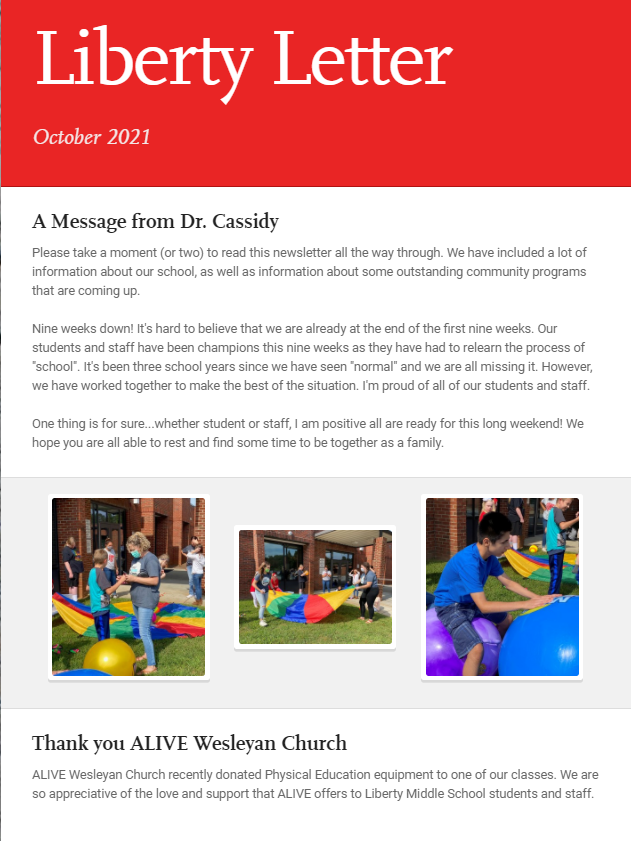 As the weekend approaches, we want to remind our families that students do not attend school next Monday (10/11) and Tuesday (10/12). We hope you enjoy a restful break as we have completed our first 9 weeks of school. Happy Fall!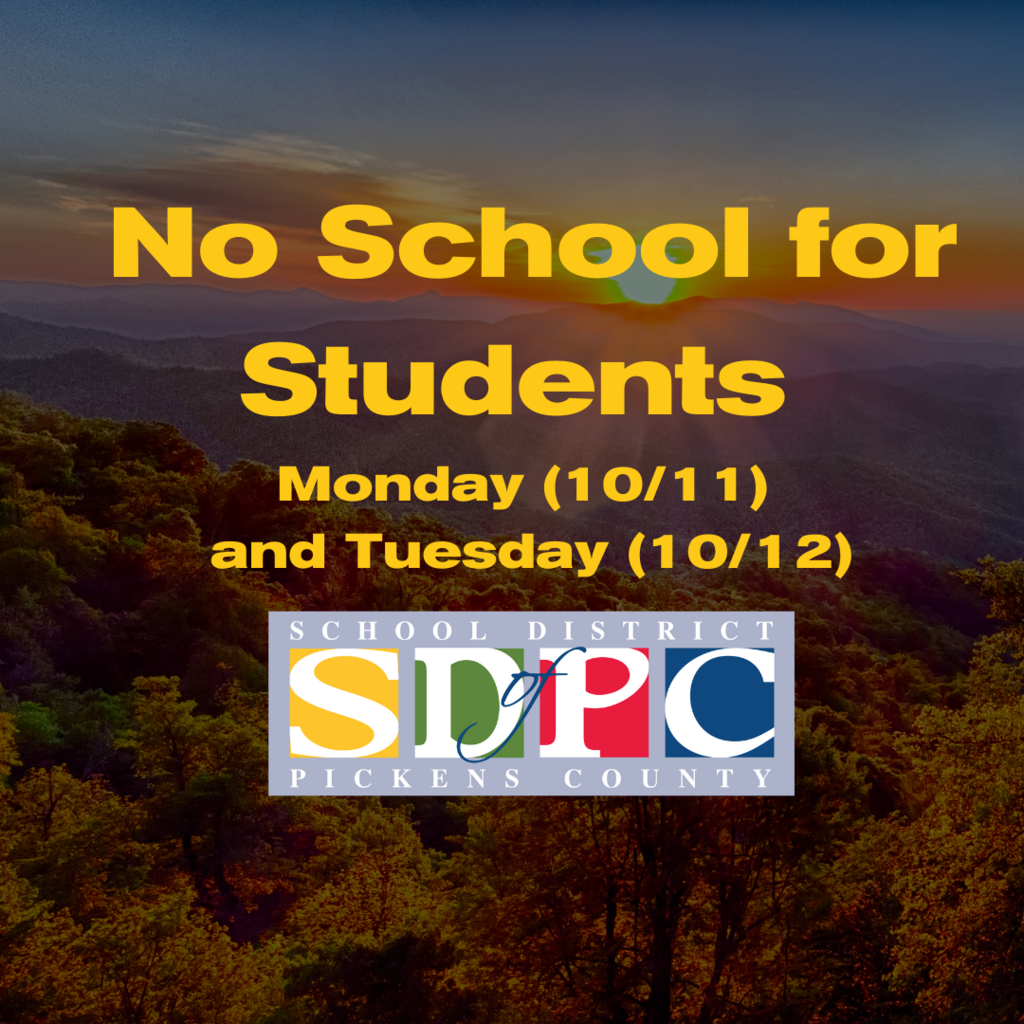 SUPPORT DURING QUARANTINE for LMS Students Being isolated because you are sick or quarantined due to close contact is not easy! Our school will miss you while you are at home, but please know that we are here to support you during this tough time. Our goal at LMS is to work together to keep students from feeling overwhelmed when they return to school. Check out this link
https://tinyurl.com/yt6kv3df